Thanks guys!
Iciban
:
The shader does look confusing all at once..but when you build it up from scratch its a lot easier to separate everything and understand whats going on.
I didn't use a tutorial for the ice..but I did have to look up how to do a couple of things (MatCap, Tesselation/Displacement, Sub Surface Scattering). The displacement took a little experimenting..it seemed like every tutorial I found for displacement did something wrong, so I had to play around a little bit to get a good working combination.
Also....I just finished checking out Ryan Smith's (Virtuosic's)
Advanced Mesh Paint Tutorial
at 3d motive. Its a pretty sweet tutorial..I managed to pick up a few neat tricks with vert painting that I'll integrate next time I touch the shader.
As far as everything else goes, yea I just kinda learned along the way. I made it a point to try to get a better understanding of the UDK material editor with my last project..my
Jetbike
. Between that and the ice material...I've started to really get a grip on how the Material Editor works. Before that I didn't really know much..and I referenced tutorials a lot more.
I still have a few tricks up my sleeve for the ice..I'm not done with it yet. I've got a few cool ideas that I'll tackle a bit later.
Add3r
:
Thanks for the critique! I'll agree with you..it does look a little harsh there. Those lines are shadows from the normal map..the edges are worn a little bit. The texture is actually a tiling texture...so I shrunk it down a little bit: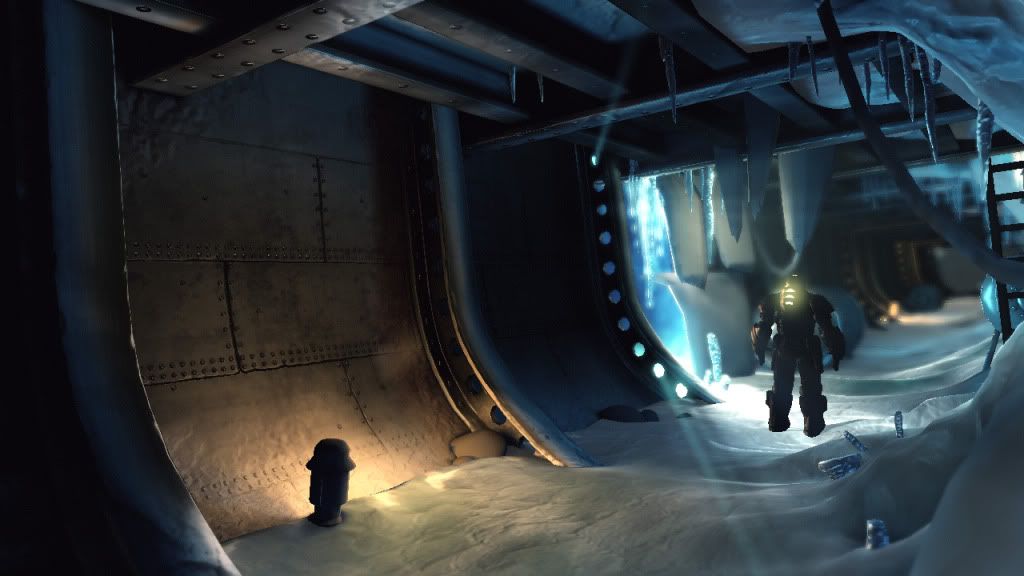 It seems to help a little bit, but is still pretty dark. I'll figure out something to make that not so harsh. Thanks for pointing that out!