Hey dude,
Your art test is off to a good start, but I would say it could really benefit from a nice polish pass before you include it into your portfolio. I know you only had a week to get 'er done, but really try and break down the test into a comfortable schedule and stick to it. Maybe 3 days for concept and modeling, 3 days for texturing and the last day for presentation.
If you get the job, you'll be expected to work at a much faster production pace then you're use to, so it is best to establish good working habits ASAP.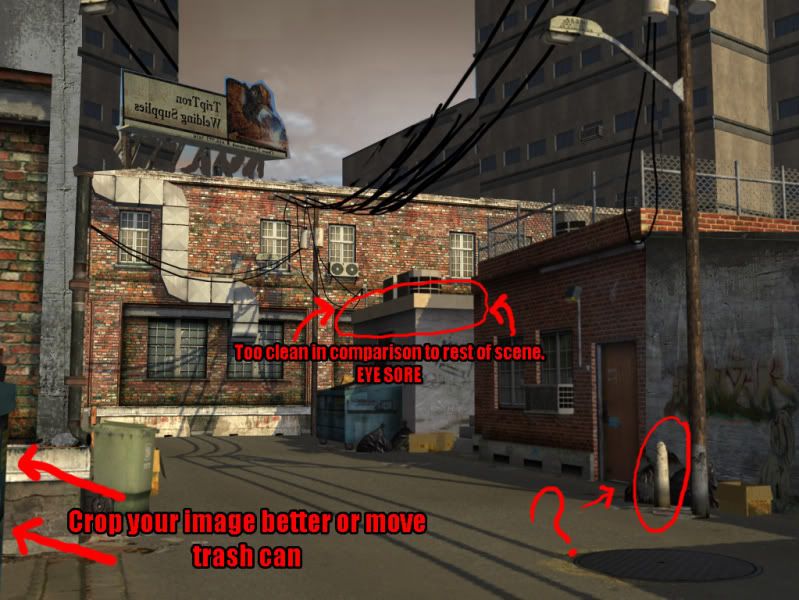 As far as specific crits, I really like the direction you are taking this. The camera angle seems to work for the shot, and even though you photo sourced a lot of recognizable textures from certain websites, I have to admit that the final result for the textures isn't as much of an eye sore as I thought it would be.
My main issue is with all that empty space that you didn't use in the upper part of your render. (the sky). It is really open and boring, which adds to a very unfinished look for your art test submission.
I did a really quick mock-up in Photoshop to show you what I am talking about. I would have tried harder to break up the open sky-line a bit more with more functional silhouettes. You could have instanced the brown building once or twice to help frame your focal point a bit better and draw the viewer's eye into center of your scene. You could have also changed the VERT tint on those instances if you were unhappy with using the same asset multiple times.
Also, there is a noticeable pattern repeat on your brown background building.
Also, I would flip the bill board horizontally in order to help with the framing and keep the viewer's eye focused on the center of your render.
The second thing that didn't look right was the image you used for the sky. It is way too blue in comparison to the lighting you baked. Your lighting seems to emit a muted yellow, which seems to suggest early sunset or late dawn, which is then directly contradicted by the bright blue sky. The placement of your shadows also suggests that the sun is directly overhead like it should be during the afternoon.
While this can be viewed as a minor infraction, the lighting doesn't make sense visually to the viewer and even if the viewer isn't aware of why the render doesn't make sense, the human eye is still able to pick up on the contradicting information, which it then processes as unappealing or ugly.
I desaturated the sky and played with the hue a little bit to show what I am talking about.
I see that you created 3 different brick textures. While I can certainly understand that you were going for variety, try and keep in mind variety is very rarely a viable option for MMOs. I would have spent the time creating one really nice tile-able brick texture and offsetting it with dirt / grime decals and overlays and or vert tinting.
I am sure that the art director and or art lead is looking for artists that know the limitations of MMO asset development, and the best suited solutions for these limitations.
One thing that might have helped with the variety is by breaking up the brick textures with more concrete. I included some concrete behind the storm drain and on the first building on the right. Try to break up the way you apply your materials to better showcase your geometry.
The green in one of your brick textures seems to suggest moss, which also doesn't make sense since you didn't add any other visual clues in your scene that suggest there is that much moisture in the air. The alley and lighting looks very industrial, dry and hot. I would have tried to turned that green more into lower opacity values of black so that it came more across as dirt / grime.
As for the rest of the crits, I just added some quick notes to the image. Sorry if any of this stuff doesn't make sense, since I was writing this up at work and had to rush through it. So please excuse any grammatical errors and e-mail me if you need further explanation with any of the suggestions I made.