Delko
- Sexy box, is it based on anything in real life? I feel the top and sides could do with some vents or lines or something to break it up. Also, some screen variations would be nice. Maybe you could make a separate sheet of say, 32x32s and have the other guy make a bit of code to randomly select a screen?
MadCarrot
- I would say that a 64x32 might even be enough for something like this. Two unique sides and the other 2 instanced. What's your UVW map?
carlestenorio
- did you read the title of the thread? Sub ~1000 triangles. Not to mention that you're just copy-pasting your post (it's the exact same as the WAYWO thread) just to get some extra praise or something.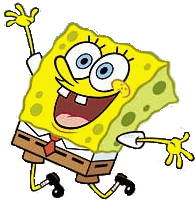 JonConley
- I'm torn. On one hand, refusing to use a decent texture is costing you massively, and it only looks worse in the end. Even right now at 1500 triangles you're missing his cheeks and lines around his mouth (p.s. mouth color shouldn't be black) and some other subtleties. On the other hand, not having the tie textured makes it so it scales nicely. You're going to need to add even more polies to get the outline effect on the nose and pants though. And you might be better off having the shoes as a very glossy material than having modeled-in highlights.
(oh by the way, you shouldn't use a texture for this at all, but just vertex painting)