Quote:
Originally Posted by
itismario
if i want her to have nice legs there are just some edges i can't delete, also i need the loop around the shoulder so it won't deform when it's rigged
the cuffs at the bottom of the pants are poly planes around it, not an edge loop on the pants, the pants are supposed to be rolled up
i merged vertexes on the neck piece to the body (i want that to be 3d adds more detail then just texturing it) and made some triangles on the poly planes for hair wished shaved some triangles
now with the loops around the elbows and knee joints for when she gets rigged she is sitting at 541 triangles
thanks for all the help 9skulls
here is the head close up like you asked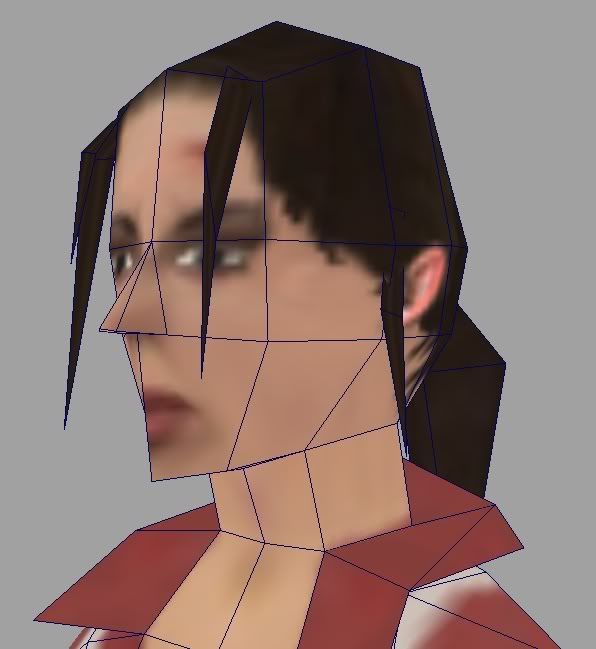 i recently did a zoey too (but ran out of steam at the hands) which might be handy reference. she came in at *looks* 556 triangles.
i could post some ortho wires if you care?
and a turnaround to see what silhouette does:
http://dl.dropbox.com/u/448525/doest...s/zoey007b.mov
You should definately add a few polies to the head, but not so much to define the shape of the lips as that's a rather small detail. the pointy chin is something that will show much more, maybe add some earplanes too?
Her bum is really pointy, but by the looks of the wireframe you seem to have a loop there so you can easily round it out.
try to grab some screenshots from ingame and look at her curves, she looks quite boxy now (really straight arms, square chest) and here's s picture too
http://www.ocgungame.net/skins/image...shots/zoey.jpg
her neck is really thin and long, and the collar should be more slanted.
lastly the pose looks rather stiff.
keep at it though, at least you got unto the texturing stage!