Hi everyone!
Working on this environment to take the place of my first one which died a horrible death through poor planning and a shaky concept. Trying to build it modular as I only have about a week and a half to get it all done. Want to get this main building, another smaller one (which if I have time will duplicate with colour/detail changes to fill out the rest of the square) and a fountain/statue in the middle of the piazza.
I have some questions about how such environments are normally put together. In a game engine I assume the pieces would all be separate, but how would seams be dealt with? In Maya the only way I've been able to stop the seam from being visible was to either offset the UVs at the borders or merge the different parts into one piece. The first solution results in it looking ok from far, but on closer inspection the seam is quite obvious. As for the second... I think that's kinda removing any performance benefits that modular design brings to the table..
I'd really appreciate any advice and critique you guys might have. Been looking through everyone's environment threads, about time I added one of my own. Thanks for looking!
Reference
First day's work. Base model. General noodling around deciding on design. All are instanced from about 7 original pieces.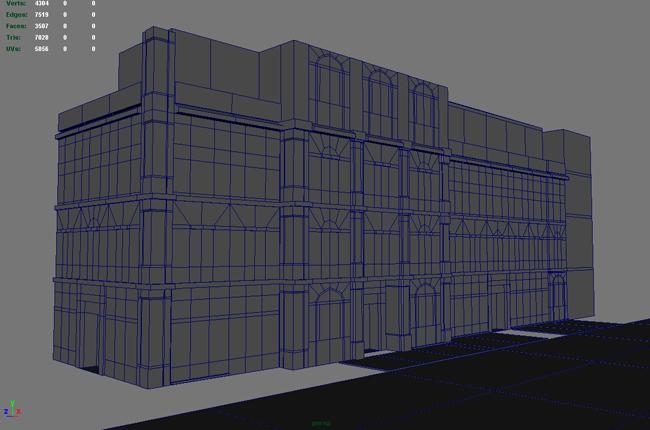 1st two unmerged blocks with seam problem. 2nd two merged..
Larger view. Ugly placeholder textures and simple lighting. Viewport render using a CGFX shader from the Kjapi Engine. Right now this building stands at 12059 Tris / 5978 faces.