**** Before you read ****
-This thread is a continuation of the ideas discussed in
http://www.polycount.com/forum/showthread.php?t=98170
. I created a new thread as this is an actual project, and the last one was a discussion of ideas and possibilities
*****************************************
**** Summary ****
Hey Folks it's been a while but I'm back with the first attempt at a community Directed Environment. As I stated above this is a first try that evolved from an idea I wrote about in a previous thread. I'm going to re-iterate on what the project is quickly for those new to this:
Essentially I would like to create a small, one frame environment (as in meant to be viewed from one spot), but instead of developing the idea by myself, I instead would like to just do the creating. The actual Ideas, the art direction, and the content, would be developed by people here on this forum.
*************************
****A blurb about me******
My name is Alexander Dracott. Currently I am working as an environment artist for Sony Online Entertainment. I graduated from the Art Institute of Portland and have a huge passion for communication, environments, story telling, as well as the technical side of 3D (shaders, post effects, etc). If you want to know anything in detail feel free to ask me via a message or check out my site,
www.digitaldracott.com
**************************
**** Some Details *****
-The Project is a focus on rapid development. The content will come in bursts from me, but can quickly change. Think of it as rapid prototyping.
-The idea is to do many of these, so the final product may not be taken to "full quality
-Many people here on the forum have great experience in creating content. What this project gives is to have a greater opportunity to practice beyond pure asset creation, and into the realm of art direction, and story telling, not to mention communication
-The major benefit for me is to not only interpret, and learn how to facilitate between different ideas from different people, but to learn what and where people focus on first when it comes to environments, and to give me a better understanding of how people view my work, especially when they are the ones helping to create it.
-Everything is viable to change. Nothing is 100%. If the color palette originally picked isn't working, then change is easy. This keeps things flexible.
-Anyone is welcome
. This is important, not only to welcome anyone at any point to add their own opinion, but to gather people from a broad selection of talent and experience.
-I will do my best to update on weekends, and to discuss and interpret during the week
-I will be creating this environment in the UDK (it is what I am most familiar in), and its rapid pipeline will allow for rapid changes
*********************
**** Process *****
The project will go in 3 phases. Currently it is in it's first phase
-Phase one "Groundwork" This will be where we can discuss composition, color palette, as well as basic content, as well as possible thoughts to further complications. It will start with some basic composition ideas.
-Phase two "Creation" Once the basis has been agreed upon, starting to figure out what will be in the shot, what goes where, etc will happen here. Best way to think about the second stage is building a home on top of the groundwork's foundations.
-Phase three "Flesh-it-out" Finally, the shortest phase will be looking at things as a whole, thinking about what works, and what doesn't. How well the original idea is communicated, as well as some possible reflecting.
*********************************
**** Current Progress: Groundwork ****
Composition:
Well its the first post so I don't expect much, but as an exterior fantasy, my initial thoughts are towards composition and content. Instead of posting blank bsp maps, I thought instead I could post a couple of exterior images, that I personally liked the composition for, just to get the ball rolling. Mostly the idea of foreground, middle ground, and background appeal to me.
Shot 1: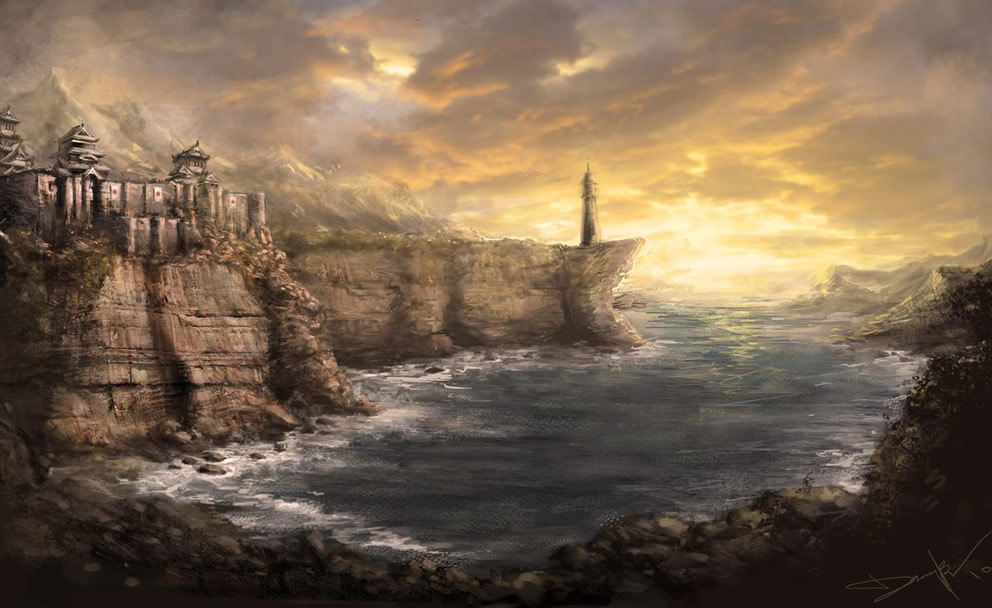 Shot 2: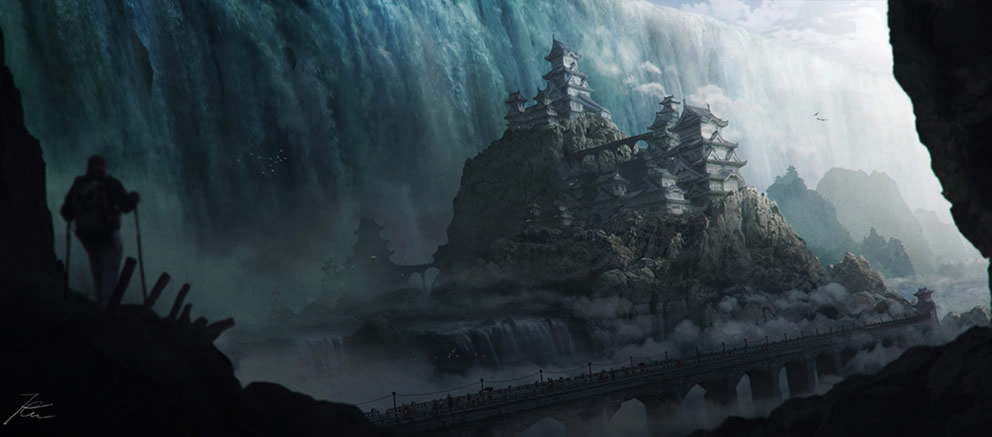 Shot 3:
Content:
I am open to all suggestions for content. Fantasy doesn't have to mean dwarves and wizards. It can mean bioshock, it could mean crazy anime worlds. Only things I am attempting to avoid is science fiction, and real life content. As an exterior piece I would like to avoid traditional people unless things really call for it. Statues, etc, those are fine
Color Palette:
This is hard to talk about without talking about story, or emotion, as personally I find them very linked. Warmer colors (Hudson River Painters), warmth etc mean very different things from cooler, more mysterious colors. A great site I will probably be referring to at a later date is
http://colorschemedesigner.com/
Awesome tool for looking at different color schemes and their variations.
****************************
As always, post discuss, talk. Lets get this ball rolling!