pixelchaot: amazing stuff - totally stunning
willy-wilson: another nice set of lowpoly stuff from you !
So, there goes another failure ;)
Basically I think I'm just stuck in between different mobile specs and don't know which way to go. Ultralow polycounts and textures, or higher polycounts with small textures...
So basically I started out with making lots and lots of modular pieces for a western town scene. I then started a quick mockup texture to see how everything could work out in the end. In order to save texture space I created more polygons so i could recycle the texture by rotating and mirroring. I kinda have the feeling that the geometry I'm using right now would be more suited for almost a fps kind of game. It's basically shipping around at 1000 triangles using a 256² texture with 7 different variations of wooden planks ;)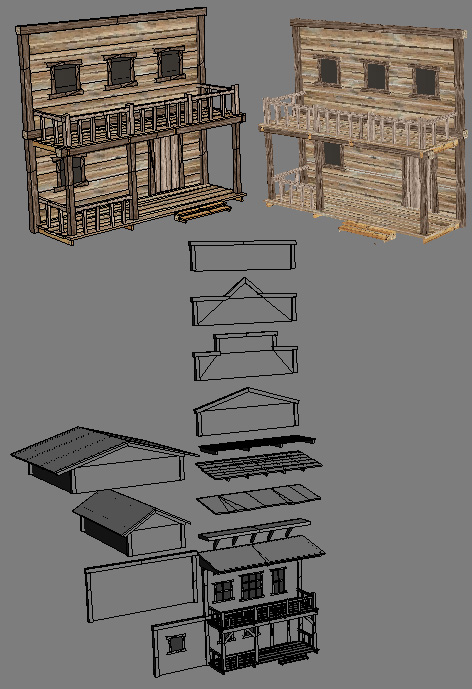 Things I've learned:
1) Really good choice to test texture on a mockup building, so you see how the texture plays out. For example I realized it's stupid to take away texture space of the planks by adding a bunch of wood profiles, when 1 is enough ;)
2) The technique with different colored planks allows for a nice variety of wood colors for single assets
3) No huge spots or creases in the wood should be applied or otherwise it will show a lot ingame with ugly lines and stuff.
I really wish there would be more Mobile Games Artists Portfolios or Technical Breakdowns available/present. I'm kinda stuck on scubasteve, madpxl and kennethfejr stuff and it's mostly single assets and not an entire level - except goldeneye stuff